2010 Boys Team Winning South State Champion, plus 3 Gold, 5 Silver, 9 Bronze! !

Sugar Land premiere gym, Gymtex, has done it again after girls team crowning the Team Champion at South State Championship! Coached by Christina Zhou, Gymtex Level 4 Boys Team took home 2010 Team Champion Trophy at USAG Boys South State Championship! The members of the team, ( Please see the picture above) Leo Dong(L), 8, Cameron Jones(R),8, Alex McDaniel(Center R), 9 and Nicholas Roehm(Center L), 9, each gave it their all and brought home medals of 3 gold, 5 silver and 9 bronze. The spotlight is Leo and Cameron came home with gold as 1st place champions of the parallel bars and high bar, respectively. Cameron's high bar score of 15.9 is only 0.1 away from the perfect score of 16! Cameron also tie 1st place on Pommel Horse, his overall high score thrust him into second seat with an All-Around silver. Nicholas tied for fifth place All-Around with four events medals. Alex achieved a personal best on the pommel horse climbing from a former score of 9.1 to 14.6, along with a tie 5th place on Rings! Annette, a school teach, mom of Alex wrote: GYMTEX does more than just provide an exercise class. It bulids confidence, responsibility and self esteem while having fun with friends.
GYMTEX boys look forward to new challenges as they move up to Level 5 in 2011!
2009 Girls Team Winning South State Champion!
Sugar Land Gymnasts Shoot to the Top

Small Gym, Big Successr

By Dina G. Gustin



Five girls from Gymtex in Sugar Land bonded together to emerge as "Best Small Gym" at Texas South State Competition in San Antonio, Texas. Each of the girls, ages 7 to 12, represent the official USA Gymnastics Association to meet the qualifications at Level 4 in beam, floor, bars and vault.  The girls competed individually in all four events based on age group at the November state meet. The team exceeded expectations as it was the first time the individuals of this new Gymtex team had ever competed. The All-Around scores of each gymnast ranked in the top 6 of their own age groups among the 300 girls qualified for the meet. Parents believe the personalized attention that the girls receive at the small Sugar Land gym is a big part of their success.
  The Gymtex team stepped up their game under the leadership of owner, Christina Zhou, seriously at the beginning of summer. Zhou, herself a decorated sports master from China, brought in two Elite gymnasts for further instruction who, by good fortune, were on summer break from their college teams. The Elite gymnasts were none other than Catherine and Christine Nguyen from Sugar Land who are former teammates of  Olympian, Nastia Liukin. The Nguyen sisters gave the budding gymnasts great confidence to reach their goals (and even sent a  text to Nastia one day during practice)!
  Exceeding Expectations Although each teammate exceeded expectations, the short road to sweet success did have its share of misfortune. During the four competitions leading up to Texas South State, each one of the gymnasts played a significant role. During the first competition in west Houston, one of the most confident gymnasts, was overwhelmed and stumbled, then fell from the raised beam 6 times. Coach Christina supported her by not allowing her to give up, finish her routine and emerge a winner. Delaney, current state champion in her division, learned that hard work pays off by regrouping to earn gold medals on the beam, vault and All-Around at State only two months later. At the state qualifier, a team member's scores helped catapult Gymtex along the way, but she was unable to compete in San Antonio due to fractions of a point. Although the team's heart sank for Laura-Marie, she displayed poise and sportsmanship. This important quality was a support for the team in ways that only a natural leader can exude. The 7-year-old, tiniest gymnast was frustrated the week before state competition, but turned her attitude around to get the "eye-of-the-tiger" on the run to vault. Daisy captured a gold medal with an awesome 9.8 on the vault to become the highest score in the entire South State Competition which includes over 1,100 scores! She also gained two silver medals in the state floor exercise and All-Around. Crystal focused her precise, technical skills to gain a silver medal in floor. And Cameron, whose calm demeanor adds consistency to the team, scored high on bars and went home with a silver medal in vault. The top talent at Gymtex balances itself with strong character and diversity.
What's on the agenda for 2010? Level 5 girl competitions are in order and a new boy's competition team who won team first or 2nd places in the competitions!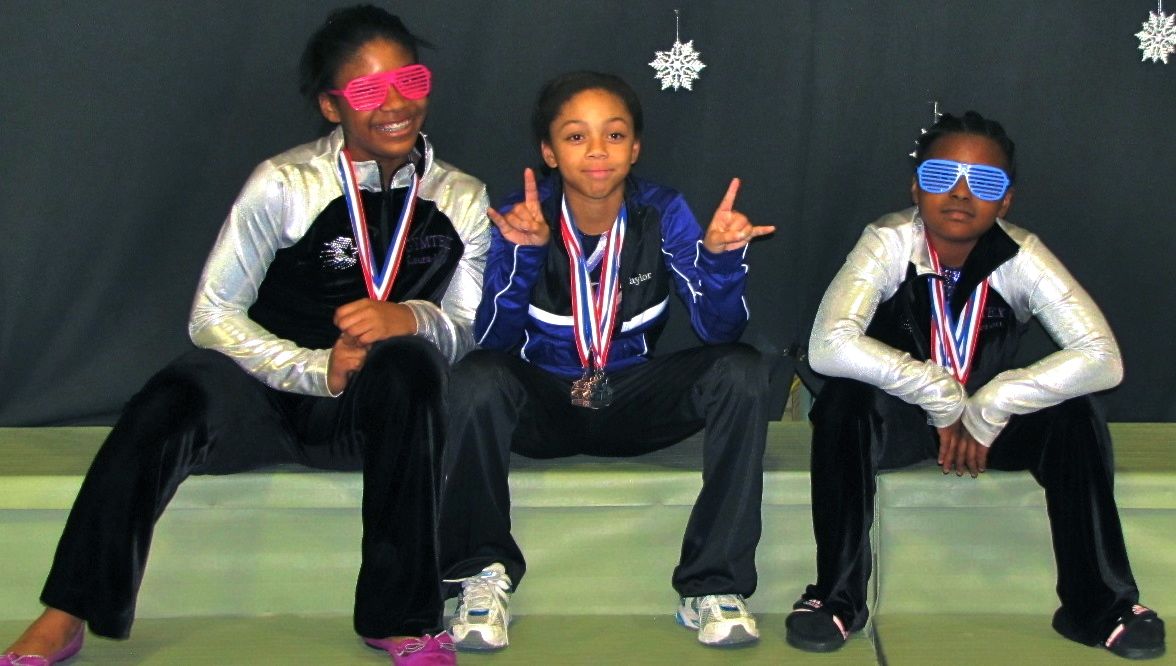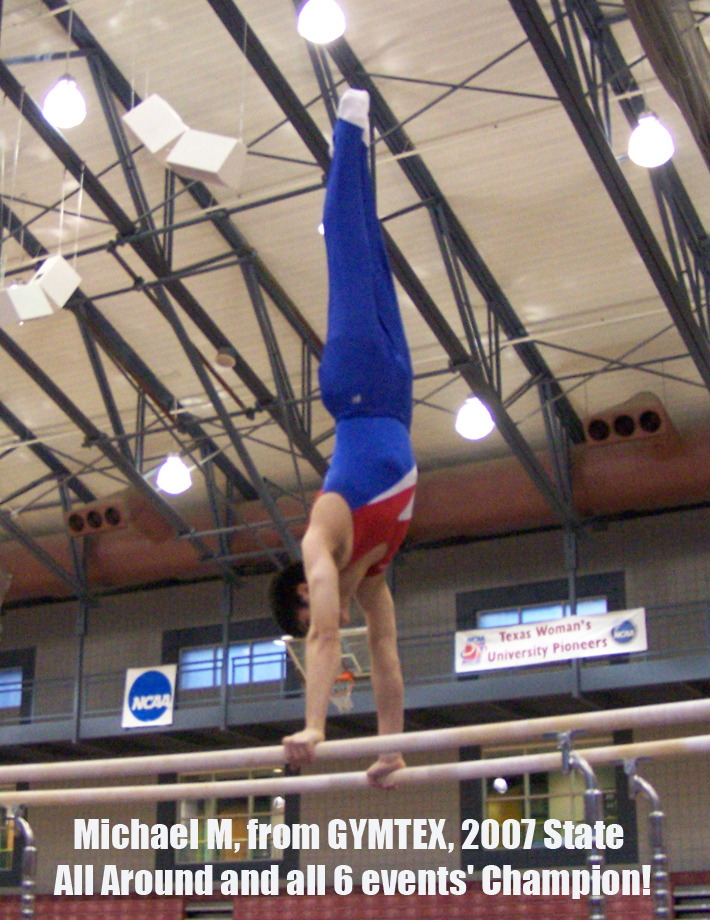 ---
2006 Boys Team News
GYMTEX Boys Won 2005 States Championship on March 20!



March 20, 2005, GYMTEX Level 6 boys have participated 2005 Level 6 Texas State Championship at Dallas-Fort Worth area.
The meet results are astonishing!
Michael McCanna, 15, has won State Champion on all 6 boy's events- H-bar, Floor, P-Bars, P-Horse, Rings and Vault in 14 & up Age Group.
Michael is also the 2005 State Champion on All Around with score of 51.5.
Michael has earned two 2005 Texas All Around Champion watches, one for himself and one for his Coach Christina.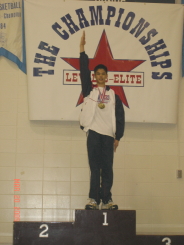 Michael McCanna from GYMTEX is the State All Around Champion and all 6 events' Champion!
Omar Amin, 14, has won 2nd on H-Bar, 3rd on Vault, 12th on P-Bars and 13th place on All Around in 12-13 Age Groups-the age was determined on the day of Sept. 1, 2004.
It is awesome for Omar won 4 medals from State; one silver and three bronze at the large and strong 12-13 Age Group. Omar has gain high scores of 9.4 on H-Bar and 9.6 on Vault. A number of well known coaches were so impressed to see Omar's Vault which was flying high and far. Omar has qualified to go to Regional Championship on Sunday 10th of April, with his All Around score of 50.85 that is 4.85 passed the qualifying score of 46!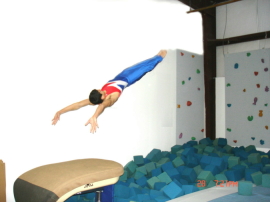 Omar's amazing Vault!
---
Omar Amin: Success at the 2005 Regional Meet
On Sunday, April 10th, at the Regional meet in Dallas, Omar Amin, GYMTEX gymnast, competed for class 6, 12-13 years age group. He achieved impressive results despite the fact that he injured himself at the very first part of first event- P-bars. His figure was swollen quite bad immediately, but he decided to take the grueling challenge to continue. He has to sand his grip whole much bigger for his swollen figure to go though. He held his pain through all the 6 events, especially on P-Bar, H-Bars and Rings till the end, which earned him much respect and admiration form the coaches, other gymnasts as well as from the audience!
Omar's excellent strive won his 4th on H-Bar and 7th on Vault with 9.5 only 0.05 difference from the first place, 12th on p-horse and 13th on All Around with 51.5 out of 46 best competitors from 6 States. Coach Christina, as Omar's coach for the past four years, said: Omar's performance there was his best yet. Texas State Chairman, Kevin Muenz was very impressed by Omar's powerful flight on Vault.
A tough competition and very good learning experience! Omar has showed his determined, toughness as a well-rounded gymnast. <FONT>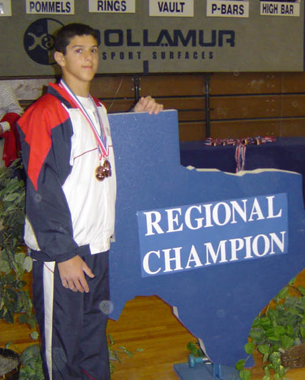 Omar won All Around 13th place out of 45 gymnastics who were from 6 states at 2005 Regional Championship
It was a great pleasure to watch Omar grow from a child growing into an awesome young man!
---
GYMTEX Level 4 & 5 Boys Winning 3 Gold Medals On 2005 South State Championship!
On April 16 that weekend, GYMTEX young gymnasts have starved their best on 2005 S. State Championship. Here are the impressive results! They won total 8 medals: 3 Gold, 2 silver and 4 bronze medals.
Adam Bergman, 8, won a gold medal on Vault with 9.65 out of 42 gymnasts in Level 4.

Eric Ho won 2 gold medals- High Bar with 9.7, and P-Horse with 9.15;

2 silver medals- FX with 9 and All Around 55.00;

3 bronze medals-on P-Bars, Vault and Rings.

Another word, Eric won medals in all boys 6 event plus All Around. Total 7 medals out of 47 gymnasts in Level 5.
New Team members were experiencing their first State Championship. Proudly they have also got awesome results as a novice competitors. Edward Kennedy, 10, got 10th place on P-Bars with 8.6 out of 29 gymnasts in Level 4. Jacob Evanich,10, got 10th place on Vault with 9.4 out of 29 gymnasts in Level 4.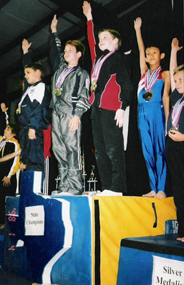 Eric Ho, 10, from GYMTEX (2nd from right) won Gold on H- Bar at S. State!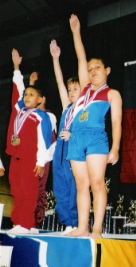 Adam Bergman, 8, from GYMTEX (1st from right), won Gold on Vault at S. State!
GYMTEX builds champions for life.
GYMTEX boys do much more outside gym:
Omar is excellent in keeping the right balance between Gymnastics and school academics. He maintained A and B reports. Omar is an outstanding athlete on his school FSMS Athletic teams: Football, Basketball and Track. He has won 3rd in District Championship on Pole Vault. Imaging that, he has flied over the 9 feet high stick!
Omar is keeping a healthy social life as well.
It takes a lot of hard work and determination to keep these four balls rolling at the same time and achieve great results.
Omar's hard work and the loyalty to GYMTEX have paid off.
Michael has also won 7 gold medals in his age group of Level 6, at City of Houston High School Meet on April 1.
Michael is at least 6'2 tall now. It took him a lot effort to keep his PSAT Math part 100% correct in 10th grade and does flip, back level on the rings...
March 5th weekend Michael has been participating competition of designing space shuttle at Space Center. After three days competition his team came up the third place.
Michael said, " 99.9% kids will not make elite or Olympians. The rest, including me, use gymnastics as a life tool to improve our ability to learn, our discipline, and our physical fitness."