The Boy's Team had a great meet yesterday, March 10.*

Adam won 5th on Vault and H-Bar, 6th on Floor Ex., 10th on P-Bars, and 13th on All Around, for a total of 5 medals. His hard work finally paid off. When his confidence is built up, nothing is going to slow him down. He is fully geared for final race for this year-the State Championship!

Andrew won 10th on Vault and Rings, and 14th All Around, totaling 4 Medals. We're proud of him for being tough to fight with some unexpected factors: Coach Christina, was 30 minutes late (Bad!!!) and he went hungry, having skipped breakfast. Good for you, Andrew! Flat tires, but you still won!!!

Eric Ho won 1st on All Around, P-horse, Floor Ex, and P-Bars; 2nd on Rings and H-bar; 4th on Vault; with a total of 7 medals. Way to go, Eric! It is impressive to see you got the top places in each event. I constantly heard the parents admiring his fine skills and beautiful rhythm. Witnessing his years of persistence brings him the joy and freedom in gymnastics is a great reward for his mom and the coaches.

Michael won 3rd on Floor, 5th on Rings. 9th on P-Horse, H-Bar, and on All Around; in total winning 6 medals. After just barely getting over a stomach virus, you can imagine how hard it was for him to pull all his strength together to win. I am glad to see him determined to choose this challenge although I told him not have to go since he was sick for 6 long days!

Boys, awesome results! The winning results lift the team sprit. After this tiring, out-of-town meet, these boys started the intensive Spring Camp on Monday, March 12. They will be working 30 hours for that week. Wow!!!

GYMTEX boys will have a great shot at the coming State Championship!


Best wishes to GYMTEX boy's team!
* Unfortunately, C.J. was sick that day. We are expecting him to shine in State Championship in April! Recover fast, C. J.!
---
GYMTEX Won 2003 State Champions of Boys Gymnastics
GYMTEX, located at 867 Dulles Ave. has won 2002 Boys State Team Champion. What about this year? GYMTEX has rocked at the 2003 State Champions for Class 6 Boys Gymnastics on April 5-6, 2003.
Michael McCanna, 13, one of four Boys Gymnastics Team of GYMTEX is the State All Around Champion with 54.95 which is the highest score for all age groups from Houston and Fort Bend area. Michael has also won 1st places on 4 individual events which are Rings, Floor Exercise, High Single Bar, and Pommel Horse, and 2nd place on Parallel Bars at the State Meet ( Remember, total men's events are only 6 ). In other words he has won 6 Gold medals. Michael's teammates also did excellent job! Omar Amin, 12, the talented and hardest worker has won Gold medal on Floor Exercise and Silver medal on Vault. Jay, 9, won Bronze Medal on Floor Exercise. Ryan Hawkins, 8, got 9.00 on Vault. What a super performances these GYMTEX boys did!
---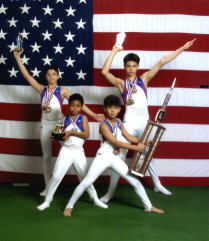 The GYMTEX Boys Team (from left to right: Omar Amin, Ryan Hawkins, Jay Chuah, Michael McCanna)
---
GYMTEX is a quality gym. Although it is small, only 3000 square foot, but has a big goal, building Champions for life!
GYMTEX believes that gymnastics is good for everyone, and every one can do well in gymnastics! Look GYMTEX Boy's team it has been established only for two years, Michael is 5' 10" tall, people call him the Yao-Ming of gymnastics and considerably not so talented in gymnastics ( His real talent is in computer and just accepted by Booker T. Washington High School of Engineering Magnet Program). Omar started gymnastics when he was 10, only one and a half years ago, Class 7 boy, Adam Bergman is only 6 years old…the list can go on and on, but with the encouragement, team sprit, modern training techniques and 4-8 hours a week of hard, but fun work, these boys have gained self-esteem, muscles, the balance in their mind and body, and the most importantly, friends! GYMTEX boys are the living proof that winning belongs the one who puts his heart into it and GYMTEX can help you to reach your potential!
GYMTEX girls has won State Champions on 2002. Their 2003 TAAF State Meet will be in coming May. So far GYMTEX girls have ruled all the competitions they went to in 2003. For example, at the last meet hosted by Basel's gym in Spring, Texas on Saturday, on March 29 GYMTEX won Level 5 Team Champion over Cypress, Basel, Bryan, and other well known and larger gyms. In a word, AWESOME describes these girl's recent efforts. As individual, Jenny Luong won 1st place All Around Division 1. She scored 1st place in floor and beam, 2nd on bars, and 3rd on vault. Jenny had the grace and confidence needed to beat the best! Michelle Adams, 8, won 1st place All Around Division 3. She took 1st place in bars and floor, 2nd on beam, and 3rd on vault. Michelle's hard work in perfecting her routines really paid off. Britne Goldstein won 4th place All Around Division 3 with her highest score of the year. Britne placed 3rd on bars and beam. Way to go Britne! Cynthia Hua has contributed a fabulous performance to anchor the girls to the top. She won 3rd All Around for Division 1, 1st on vault, and 3rd on bars and floor.
---
---
The level 4 girls also rocked in Basel'd meet. Alex Moffatt was the champion for All Around, Vault, Bars. Haley Cox was the champion at Bryan meet. Nora Pek has kept consistently high scores and, new teammates Catherine Taylor and Haley McCormick all had great improvement at their first meet.
Keep up the great work team, and way to go, GYMTEX!
---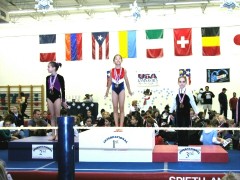 ---
State Champion!
For a 3000 square foot gym, GYMTEX has big confidence to challenge all the gyms from everywhere in TEXAS. Most of the gyms are over 10,000 square feet, one of the biggest in Texas was even 90,000 square feet!
On Dec. 8, GYMTEX's 10 years old girl Jenny Luong has won 1st place on floor exercise at the Texas State Competition. Her graceful and powerful performance got her a high score of 9.675. Right after her routine, quite a number of coaches from other gyms congratulated her awesome performance and the floor judges were f very impressed as well. One of them commented that because Jenny's routine was so well done, the score was so high that she had to double check if she has missed any deductions. But she didn't! Actually, another judge even gave Jenny an even higher score.
Jenny's score was not only the highest for her age group, (which was 57 kids) it was also the highest score for the 7-8, 9 and 12 yrs. & up age groups which total 188 gymnasts. Wow! Jenny also won 2nd on bars. Her score on bars was 9.425, which was 0.025 lower than 1st place. Jenny works out 8 hours every week.
GYMTEX girl gymnast Cynthia Hua has won 3rd on Vault in the Texas State Competition, 1st place on Vault in a couple of district competitions and 4th All Around and 2nd on Vault in the South Texas Championship!
The other team girls are Michelle Adams and Britne Goldstein. GYMTEX girls won 5th place Team in District Championship. Congratulations to you, GYMTEX Girls!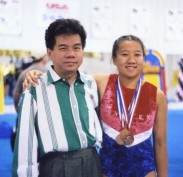 ---
A HUGE Donation to GYMTEX
At GYMTEX, "We build champions for life"! More importantly than just succeeding competitively, GYMTEX gives children of all ages first-class confidence building and fun. GYMTEX parents love having their kids have the opportunity to grow in an updated, clean, friendly and brightly lit learning facility. In return they have given GYMTEX the best support and faith.
One of them, Mr. Jimmy Hua has just donated $3,000 to buy a Vaulting Table for GYMTEX to meet the new requirement from Jr. Olympic Competition Program Committee which starts in 2003. With safetyas the first concern, the staff is in constant training. With the funand hard working kids and supporting parents, GYMTEX is looking forward to having another exciting, year.
Best wishes to GYMTEX and all the gyms in Sugar Land area!